AYPF Youth Summit
08/03/2022 07:30 PM - 08/31/2022 09:00 PM ET
Category
Webinar
Summary
Amplifying Youth Voices & Celebrating the Power of Young People to Create Change
Description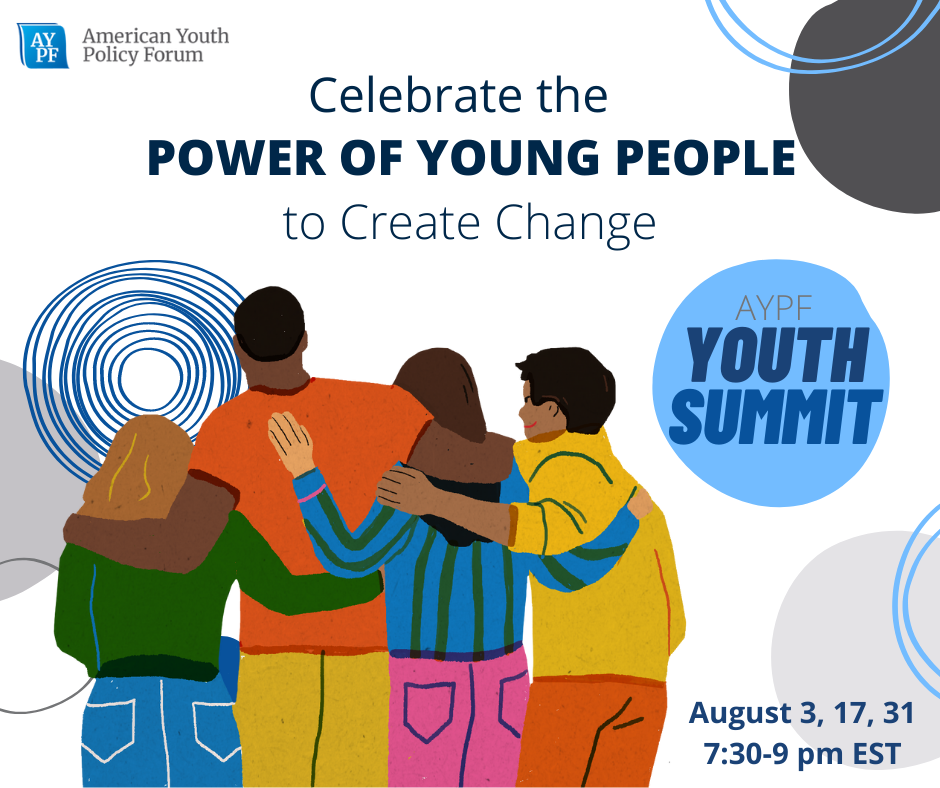 With the belief that those closest to the problem have a unique understanding of solutions, the American Youth Policy Forum (AYPF) is partnering with young people to provide insights from your experiences to help shape policies and programs that directly impact your lives. For lawmakers and school officials to create policies that reflect the strengths and realities of our young people and achieve positive outcomes—especially including the goals you have for yourselves and your communities—your voice must be at the center of the policymaking process.
The 3-part Youth Summit virtual gatherings will be an engaging, interactive, and fun celebration of the power of young people to create change. Thought-leaders, youth advocates, and policymakers are invited to listen, learn, and join us in amplifying youth voices.
At the kickoff event, participants will hear from:
A youth activist from the Civil Rights Movement

A young leader on a mission to reform youth justice systems

A changemaker revolutionizing youth political engagement.
The second session will focus on the school-to-prison pipeline. And the third session will highlight needs for employment policy reforms. More information on these sessions coming soon!
Breakout discussions will provide an opportunity for young people to share your interests and ideas for change, and will explore how we can transform systems and policies to better serve you and your communities.
For more information about the Youth Summit, stay tuned to our website, aypf.org, and social media channels!
Note: You only need to register once to attend all 3 sessions. By registering for this event, you are subscribing to the AYPF email list, and can unsubscribe at any time.